Okay, the reason I joined this forum: I have a Clod that I want to make into....
...a Clod.
Really, not looking to break any new ground here, and not looking to change the basic Tamiya Clodbuster all that much. One of the things that I love about the Clod is that, if you watch videos of the monster trucks that were its contemporaries, it was almost the perfect scale RC. Yes, MOA is wrong, but everything else is spot on. The stance, the hard body being analogous to the full pickup bodies that were still in use, and even the (by modern standards) sub-par speed and agility are very close to where Bigfoot III was.
I want to keep that, so I'm not changing a whole lot. Things I am adjusting are:
Strength and durability. I got my Clod used, and I'm really not sure what generation it is. The body has since been repurposed, but it came with a grille that was neither bowtie nor 4x4x4. However, it did come with the internal stiffeners:
I've added the Crawford Performance Engineering aluminum chassis brace
http://crawfordperformanceengineering.c ... cts_id=703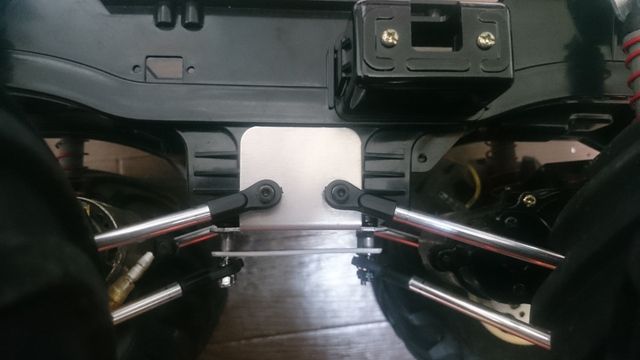 I've four linked it, the balls are Kyosho 6.8mm Franged (sic) Ball, part #92841, and the adjusters are Kyosho 6.8mm Ball Ends, part #97051. Those end adjusters are for 4mm rods, so I've used some 4mm allthread from the local hardware store, sleeved in 6mm OD, 1mm thick aluminum tube, from experience I know this is a pretty solid setup.
The links attach to the axles using some Level 3 RC axle stiffeners and 4-link mounts. They were supposed to come with conical washers, but there was a packing error. Since I was planning on using the Kyosho flanged balls anyway, it didn't affect things at all: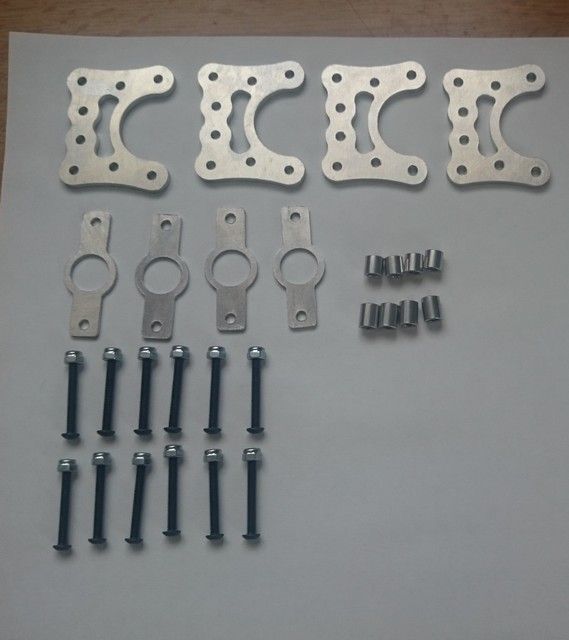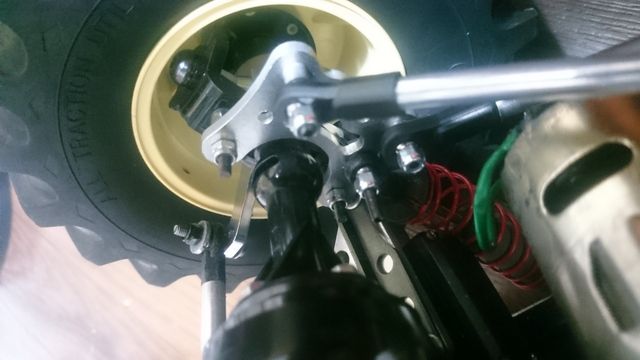 Steering knuckles are aluminum, and stolen from my old super-class crawler. I honestly don't remember who made them, or where I got them from. Possibly the now-defunct JP Customs? Anyway, they'll do the trick, no steering stops on them: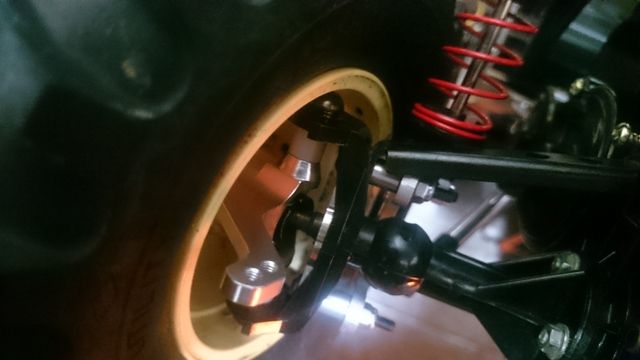 One thing I didn't realize when I started this is that the stock Clod "dampers" are 110mm. I was planning on using some Maxx shocks (again, stolen from my crawler), so I had to order a lift kit (
http://crawfordperformanceengineering.c ... ucts_id=64
) from Crawford: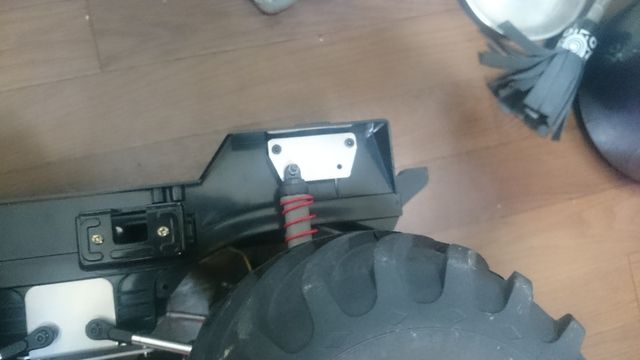 Steering is axle mounted, again, some old parts I had, maybe RC Guys? Anyway, somewhat frustrating since whoever made it (and this, I'm sad to say, goes for the Crawford parts too) decided to use imperial (inch based) nuts and bolts rather than metric. I know, I know, most of you all are US-based, and I'm an American too, but here's the thing: Having a Clodbuster (or any Tamiya product) means that, no matter where you're from, you have a metric wrench, those little gray crosses that we all collect. It does not mean that you have any imperial tools, and there's nothing worse than having to wait for the weekend to go to a specialty hardware store that carries non-metric tools to put your truck together.
Okay, sorry, rant over. Steering, using Tower Pro MG945 servos. Tons of torque, metal gears, and something like ten bucks apiece: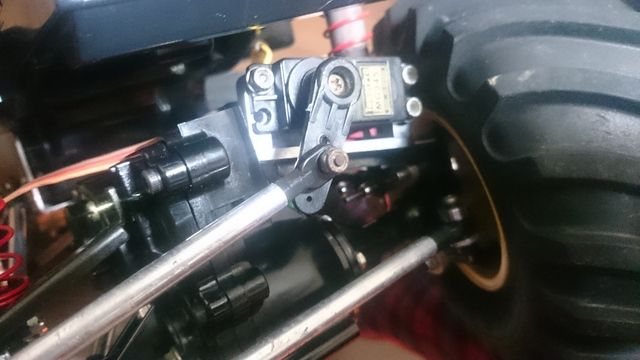 Right, that's the basics. Let's move to a new post, shall we?