The following is a How To describing how to dye Proline Brawler wheels with RIT Dye.

***Disclaimer: This is the technique I used which result in successful coloring. Perform at your own risk.***
Okay, now on to the good stuff!
STEP 1:
Gather your stuff.
Materials:
- One Pot
- One Box of RIT Dye
- Brawler Wheels
- Tongs
- Water
- Access to a Stove
- Paper Towels
When selecting a pot for boiling water and the RIT dye, be warned that the RIT dye can stain your pot.
So it is best to use a very old pot or buy one specifically for this project.
I purchased the pot in the picture from Wally World for approximately $8.
The picture shows two boxes of RIT but I only used one. Each box cost a little under $2.
STEP 2:
Boil the water.
STEP 3:
After the water reaches boiling point, drop the temperature down to a simmer.
Now add the box of RIT dye. Be careful not to splash. This stuff can stain.
STEP 4:
Using a pair of tongs, lower each wheel into the pot.
With the size of pot I used, I was able to do one pair of wheels at a time.
Let the wheels sit for a minimum of
30 minutes.
After the 30 minute mark, I checked the wheels to verify the color took. I decided to let them sit in the dye for 20 minutes more.
Adjust as needed. Some colors may need longer.
STEP 5:
Remove wheels and allow to dry on paper towels.
Remember that this stuff stains, so be careful with drops and bleed through of the paper towels.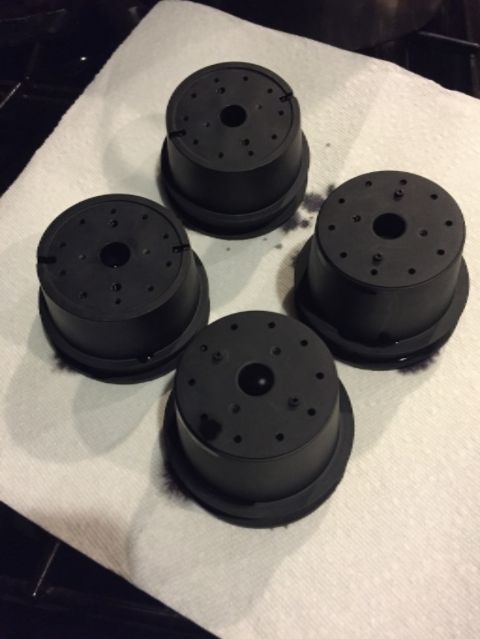 STEP 6:
Celebrate how freaking awesome they came out!