Five months ago, i started my childhood dream of RC cars, aged 41 !
Here's my lot to date..

1st Tamiya Manta Ray..
..not everyone likes the looks, but i thought it quite sci-fi and true of the early 80's it was born in. Started off as a £17 ebay win, like this...
and after a bit of cleaning and rebuilding with new driveshafts, bodyshell and rear shock tower it ended up like this..
Paint is Fastrax Chameleon Jade, backed with Jet Black - its a flip flop colour from very intense green through to gold - really suits the curves of the shell. I still have the original wheels/tires but the ones in the photo's are some cheap Ansmann racing ones, about £12 for the lot.
2nd Tamiya Hotshot..
Another ebay auction win, and even at £10 you need to look hard to see the Hotshot bits in amongst the myriad of other Tamiya bits !. Started off as...
The rear suspension set-up in the last photo is a rare hop-up, with carbon fibre tower, modified lower brackets and CVA dual oil filled shocks instead of the traditional monoshock. After rather a lot of new parts (cost about the same as buying a new kit !), it ended up this on its original Hotshot wheels..
and on some Seben Racing rims n tyres ..
Fitted with EZRun sensorless brushless ESC and 4300kV motor running off NiMH. The hop-up parts are saved for another day, the car returned to original monoshock configuration front and rear.

3rd Tamiya DF-02 Rising Storm
- built from new kit for my son at Christmas
4th Project Cloider
- reported in the Monster Truck Projects section
from this..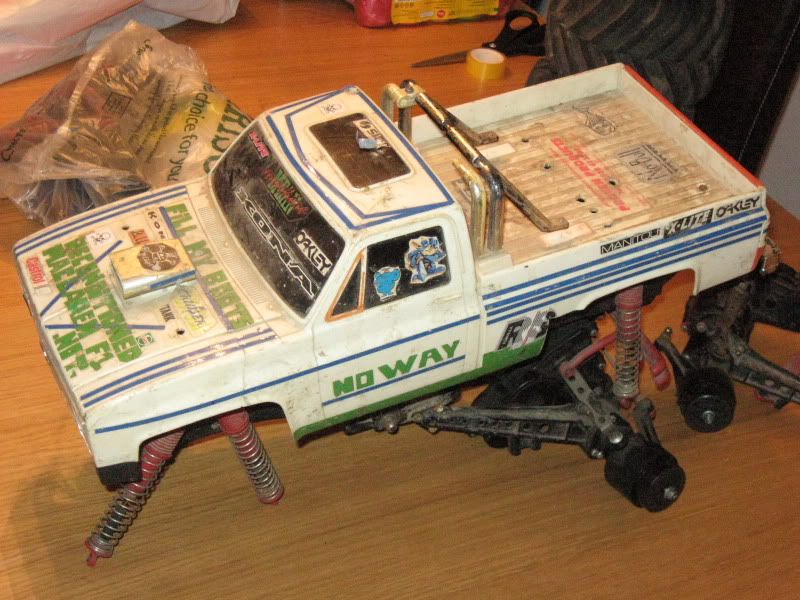 to this..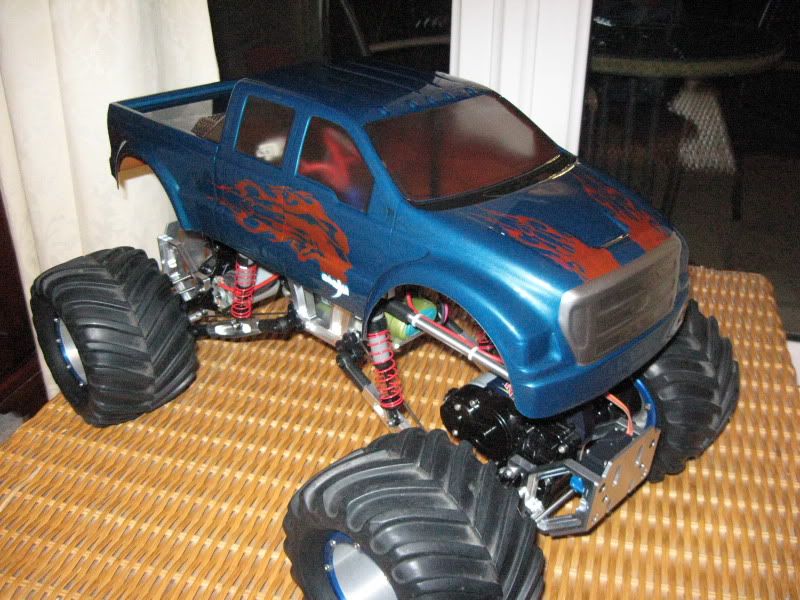 and next ?
I've got a Tamiya 2WD Blitzer Beetle to strip, clean and rebuild with ball bearings and a Hobbyking brushless 3980kV brushless system running off 2S Lipo. Think it needs a new shell
and then ?
another Clod ?, maybe keep it stock chassis next time round but load it with uprated motors ?
So that's me for now - not too bad for 5 months