I'm new to the board, and I have to say that looking around here, I'm almost embarrassed by my lack of knowledge/experience. I know very few of the names, acronyms and setups y'all are using and the over the top builds I've seen are amazing.
But, here's my time capsule Clod. Bought and built in Misawa Japan in 88, modded in 89, and it's pretty much been untouched since then. On base, it was one of the fastest on the track. Looks kinda pitiful compared to what's out there now, but I still like it.
A pretty standard Clod with a Dahm's Camino 2000 body:
The chrome chassis was added in 91 or so when the OEM one broke (maybe during shipping from JP). Also picked up a set of garage made steering pivots as I'd already broken a set.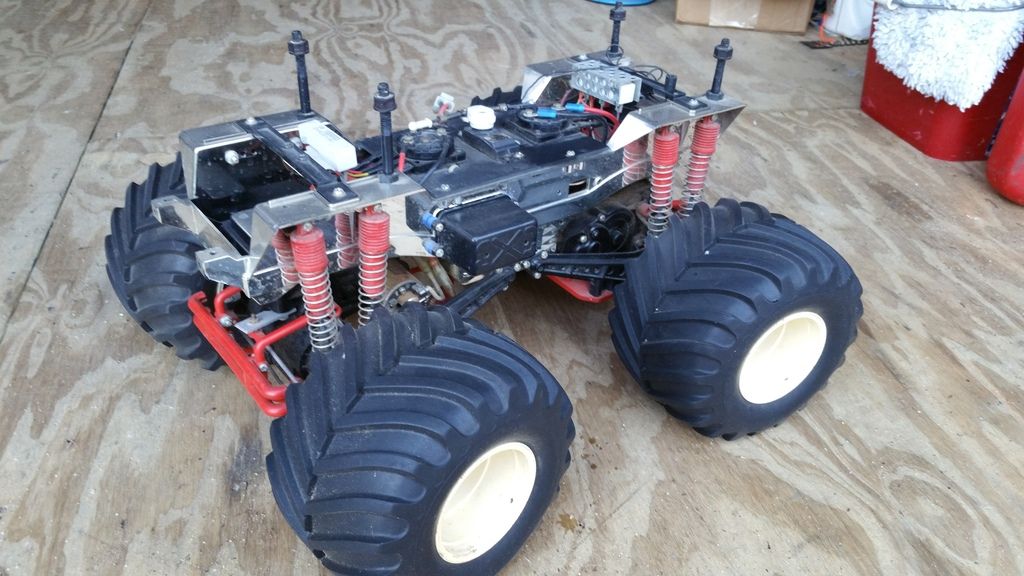 I originally ran LeMans 600E motors for torque and drive time, but when I started racing it, I went with the LeMans 480 Gold.
I put spacers in to fit an 8.4v battery in the stock location, and since there were no ESCs at the time capable of running dual motors, I came up with this:
It could stand a dis-assembly/cleaning, but one of my Lazer ZXs is being done at the moment. Recently, I picked up a mostly complete Clod chassis. Looks pretty stock, and needs a body and wheels. I still have an 80's body kit NIB, bought when I didn't like the paint on the first body, and a full set of NIB gears.